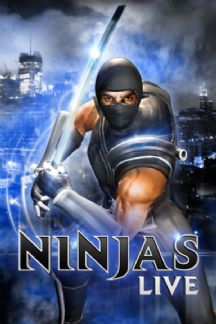 Ninjas Live
La oscuridad ha descendido sobre la ciudad. Las fuerzas del mal han invadido todos los sectores de la sociedad. Como un ninja en las sombras, puede ser la mayor esperanza del mundo, o su amenaza más grave.
Assemble your clan, for the time of the ninja has returned.
Start as a student of the ninja arts and fight your way up to become the most legendary ninja in the Ninjas Live world!
FEATURES:
- Massively Multiplayer ONLINE Role Playing Game!
- FREE updates with new missions, weapons, techniques, spells, and more!
- Fight other players LIVE
- Four different classes -- Assassin, Mercenary, Thief, and Mystic -- each with different bonuses
- Show off your clan with the best weapons, techniques, and spells
- Acquire clients and earn income, extra defense, and more
- New slot system for clients
- Upgrade your clients to get larger bonuses
- Bring friends into your clan to make you stronger
- Perform numerous deadly missions
- Collect rare and powerful loot items
- Enjoy gorgeous graphics
- Enjoy ninja sounds
- Get real time updates
- Comment on other players
- Broadcast messages to your clan
- ...and much, much more!